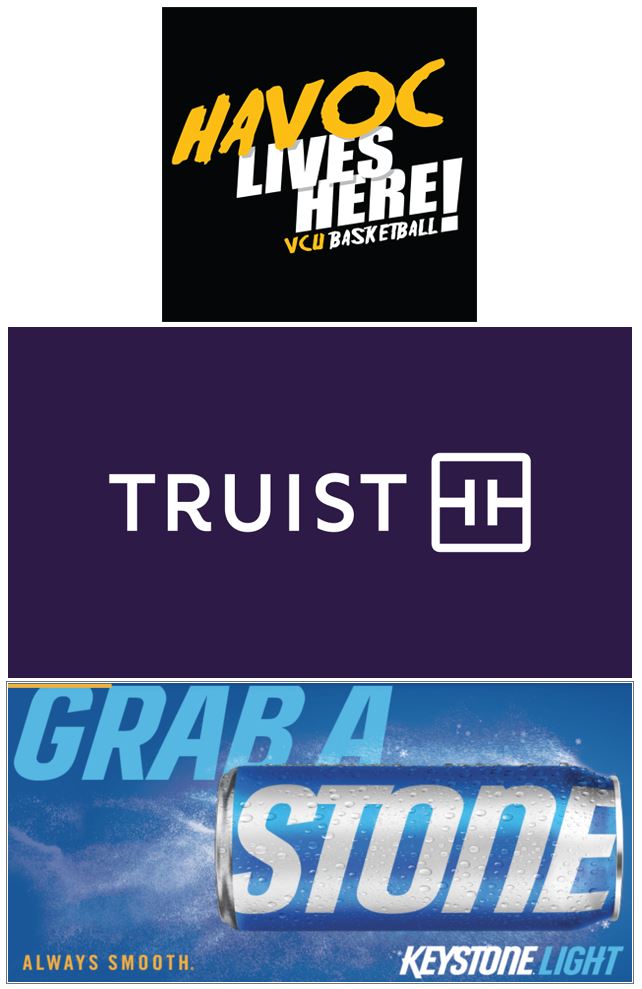 VCU Men's Basketball and HAVOC

Then. In 2015, Shaka Smart left being head coach of VCU men's basketball to take the same job at the University of Texas. While at VCU, Smart played full-court press defense, which he called "havoc." VCU promoted that term and obtained Virginia state mark registrations for it.

After Smart switched jobs, Texas filed applications to federally register the marks HORNS HAVOC and HOUSE OF HAVOC. That upset VCU fans. It wasn't clear whether Smart supported using HAVOC branding at Texas.

Now. Texas didn't go through with the federal mark-registration applications and didn't use HAVOC as a mark.

VCU federally registered a few marks consisting of or containing "havoc."

But it's not clear how committed VCU is to the mark. It hasn't stopped others from federally registering marks containing the word HAVOC for clothing items. It sells a few items in its bookstore emblazoned with HAVOC. VCU basketball uses #havoc as a hashtag on Twitter. Legally, that doesn't qualify as a mark use. VCU does not use mark-ownership marking next to HAVOC. It should be using ®.

Any Lesson Learned? If VCU cares about its HAVOC mark, it needs to treat it better. Marks don't maintain themselves. Having a mark registration will do little if you don't continually use the mark, label it as your mark property, and police it against infringement.

SunTrust and BB&T Merge to Become Truist

Then. In 2019, SunTrust and BB&T merged and chose the name TRUIST. That name rankled Truliant Federal Credit Union. It is headquartered in Winston-Salem, North Carolina, where BB&T had its headquarters. Truliant sued SunTrust and BB&T for mark infringement in federal court in North Carolina.

Now. The case settled in July 2020 on confidential terms. Truist still uses its name, as does Truliant. We don't know if Truist paid anything to Truliant to settle. It probably did.

Truliant moved for a preliminary injunction to stop Truist from using its name while the litigation continued. The parties settled right before that motion would have been decided.

Any Lesson Learned? Truist certainly paid over $1 million on attorney's fees and other stuff, and perhaps much more, to clear the path for its new name. Perhaps that cost is worthwhile for a big company to get the name it wants.

As for Truliant, the merit of its case was so-so. I can't tell if it genuinely thought it would suffer consumer confusion or if it just hoped to cash in on a mega merger. Truliant probably spent far more money than it anticipated to fight the battle. Maybe it got a fat payoff.

Regardless, the management of each side spent a ton of time on the case. Often senior management hates the time suck more than the big legal bills.

Stone Brewing Objects to Keystone Light Calling Itself STONE

Then. Craft brewer Stone Brewing has a taproom in Richmond east of downtown. MillerCoors makes Keystone Light beer.

In 2017, MillerCoors changed its beer can to feature STONE on one side, with the word "key" above and "light" below. It ran ads with slogans such as "hunt the Stone" and "let it Stone." It also changed its packaging so cases of beer can be stacked to show the word STONE repeated in a pattern.

Stone Brewing sued MillerCoors for mark infringement in California federal court in February
2018.

Now. MillerCoors still markets its beer as "Stone." Its website features the slogan "Grab a Stone."

The litigation rages on. Stone Brewing lost a motion for a preliminary injunction to stop MillerCoors from using STONE branding pending the outcome of the case, although the court found the evidence moderately favored Stone Brewing.

Any Lesson Learned? Perhaps Stone Brewing has continued to invest in the case because it hopes to recover the profits earned by MillerCoors in selling Keystone Light since the branding change. Each side easily has spent over $1 million in attorneys' fees and probably much more.

This case should have settled long ago. They should have negotiated a marketing change for Keystone Light, which would not have required changing the name of the beer. Perhaps Stone Brewing now needs a big payday to cover what it has spent in litigation.

This litigation smells more like an expensive grudge match than level-headed thinking to me.

Written on April 21, 2021.

by John B. Farmer

© 2021 Leading-Edge Law Group, PLC. All rights reserved.